Converter from video composite signal to RGB for TFT-Display (Display Controller Board)
Product Detail
Our Advantage
Product Tags
1.Brightness can be customized,brightness can be up to 1000nits.
2.Interface can be customized,Interfaces TTL RGB,MIPI, LVDS,SPI,eDP is available.
3.Display's view angle can be customized,full angle and partial view angle is available.
4.Touch Panel can be customized,our LCD display can be with custom resistive touch and capacitive touch panel.
5.PCB Board solution can customized,our LCD display can support with controller board with HDMI,VGA interface.
6.Special share LCD can be customized,such as bar,square and round LCD display can be customized or any other special shaped display is available to custom.
DSXS035D-630A-N-OSD is the Display Controller Board convert video composite signal to drive a TFT LCD Display for an existing video doorphone system.
The development of the Display Controller Board comprises the development of schematics, PCB-layout, software/firmware, mechanics, functional tests and EMC-test. Development and tests shall managed with complete doorphone system.
These document describes the serial communication between doorphone board and Display Controller Board for basic settings and OSD.
A few connectors, interfaces, inputs and outputs of Display Controller Board are already defined. They are described in these document.
Item
Standard Values

Size

3.5

inch

Resolution

320

x

240

Outline Dimension

76.9

(W) x

63.9

(H)x

3.15

(D)

mm

Display area

70.08

(W)×

52.56

(H)

mm

Display mode

TM with Normally White

Pixel Configuration

RGB Vertical stripes

Interface

RGB/CCIR656/601

LED Numbers

6

LEDs

Operating Temperature

'-20 ~ +

7

0℃

Storage Temperature

'-30 ~ +

8

0℃

1. Resistive touch panel/capacitive touchscreen/demo board are available

2. Air bonding & optical bonding are acceptable
1.Operating temperature of Display Controller Board is defined from -20 to 60°C.  
2.All components and PCB shall be RoHS conform according DIN EN IEC 63000:2018.
3.The Display Controller Board include display shall be EMC-conform according DIN EN 50491-5- 1:2010 and DIN-EN 50491-5-2:2010.
4.The material of PCB include all electronical parts shall fire-resistant according flammability rating UL 94-V0.
5.The Display Controller Board shall contain following main functions:
-    Converter from video composite signal to RGB for TFT LCD Display
-     Power supply 5 V to 3.3 V and 1.8 V
-     Power supply 3.3 V for TFT LCD Display
-     Power on/off sequence for TFT LCD Display
-     Converter from video composite signal to RGB for TFT LCD Display
-     Microcontroller for translating of user defined doorhone signals to compatible signals for AMT630A (UART to I2C)
-     OSD with standard characters and user defined characters
-     Backlight inverter for LED-backlight of TFT LCD Display
Mechanical drawing of Display Controller Board: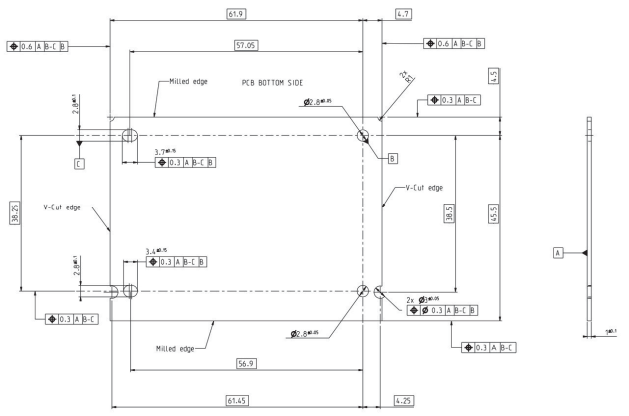 A.For PCB shall use material FR4 with a thickness of 1.0 mm,assembled on top side. The height of parts shall not exceed 3.6 mm.In area of FFC is a maximum height of 1.5 mm allowed.Free spaces between tracks shall filled with copper on both sides and connected to ground. Many vias around at all edges of PCB are necessary for good EMC-performance.
B.The bottom side of PCB shall be free from solder joints,and completely flat,expect shielding gasket in the middle of PCB.On bottom side is a self-adhesive shielding gasket with dimensions ( W x H x D ) 6 x 6 x1 mm. These shielding gasket contacted the enclosure of TFT LCD Display to ground after mounting of both components in the doorphone enclosure.
C.The bottom side of PCB shall be covered with self-adhesive insulation foil with thickness of 0.35 mm. The shelf adhesive foil contains a cutout for shielding gasket.
The total thickness of PCB and insulation foil shall be 1.35 mm +/-0.15 mm.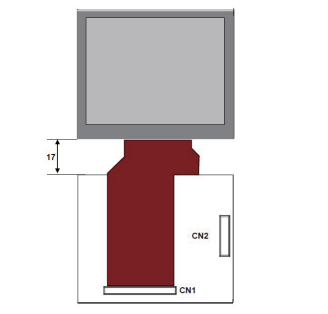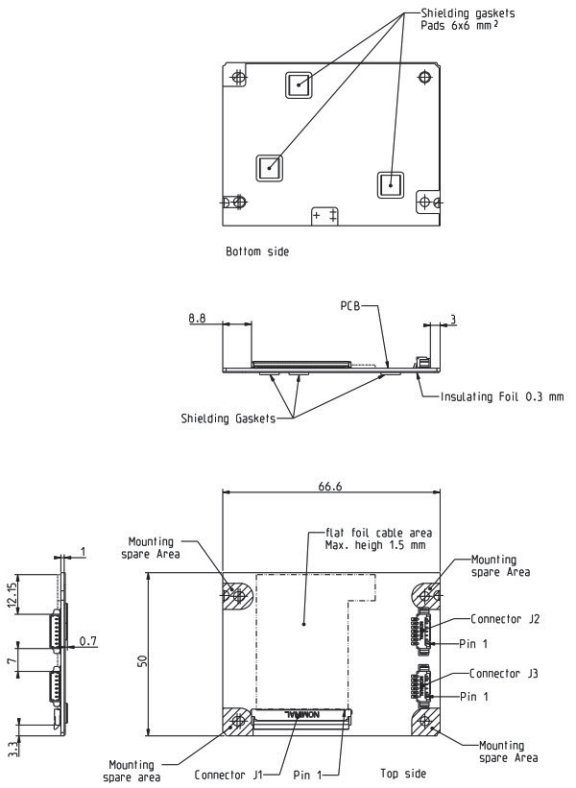 QUALIFICATION
ISO9001,IATF16949,ISO13485,ISO14001,High-Tech Enterprise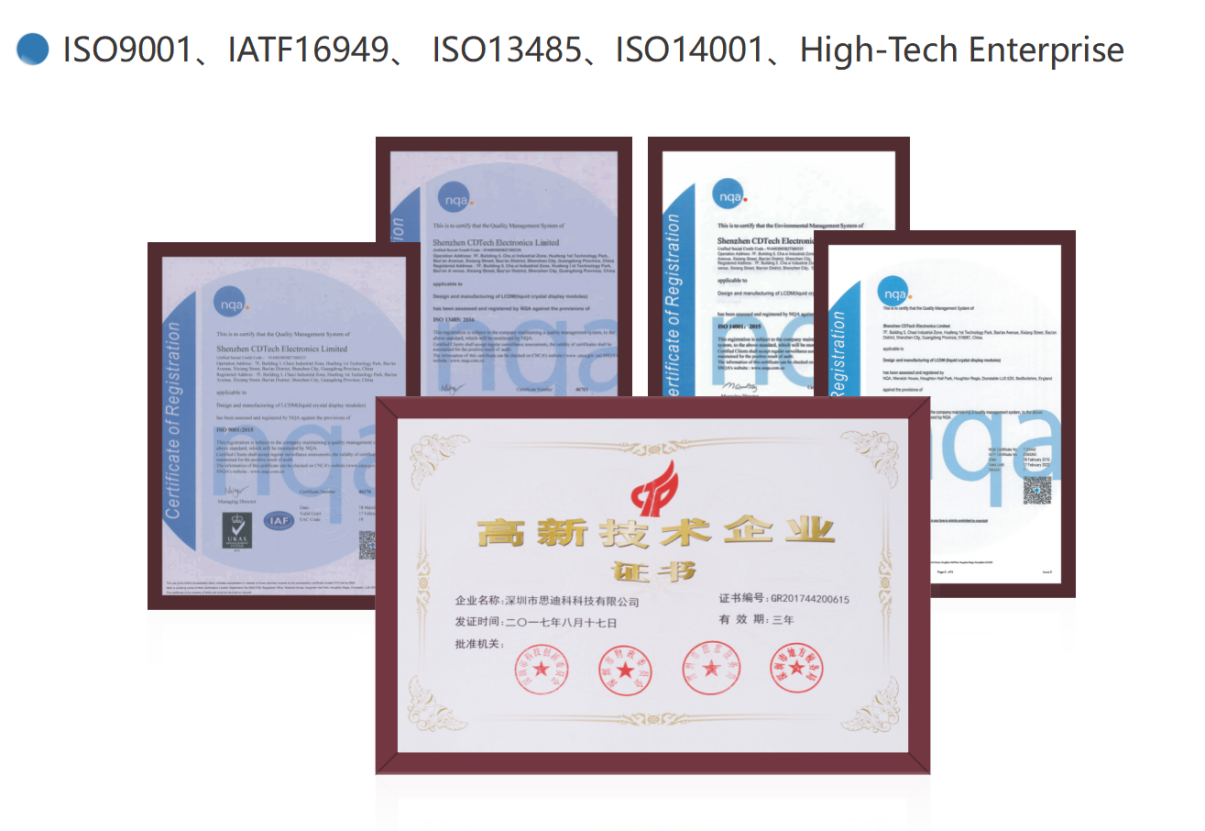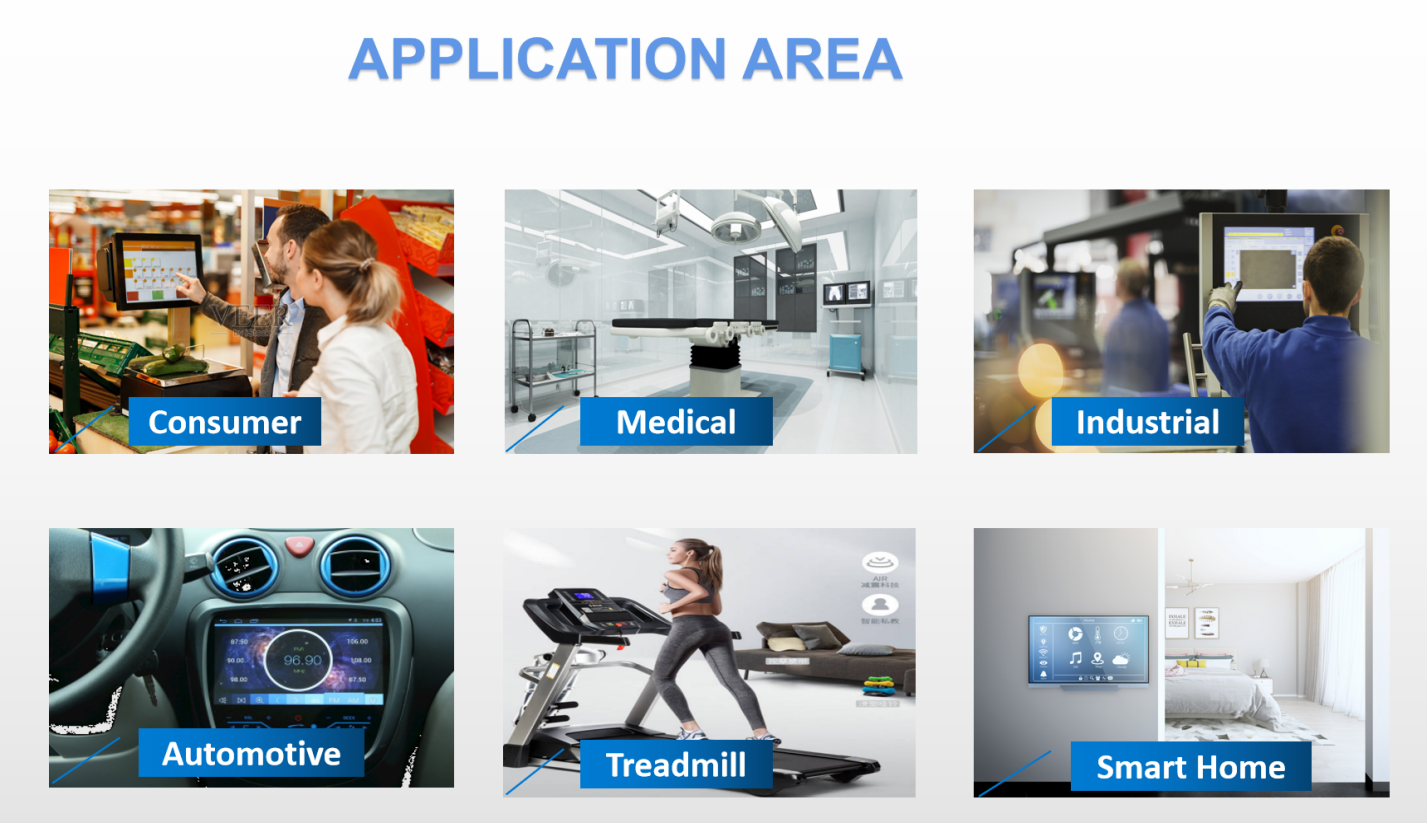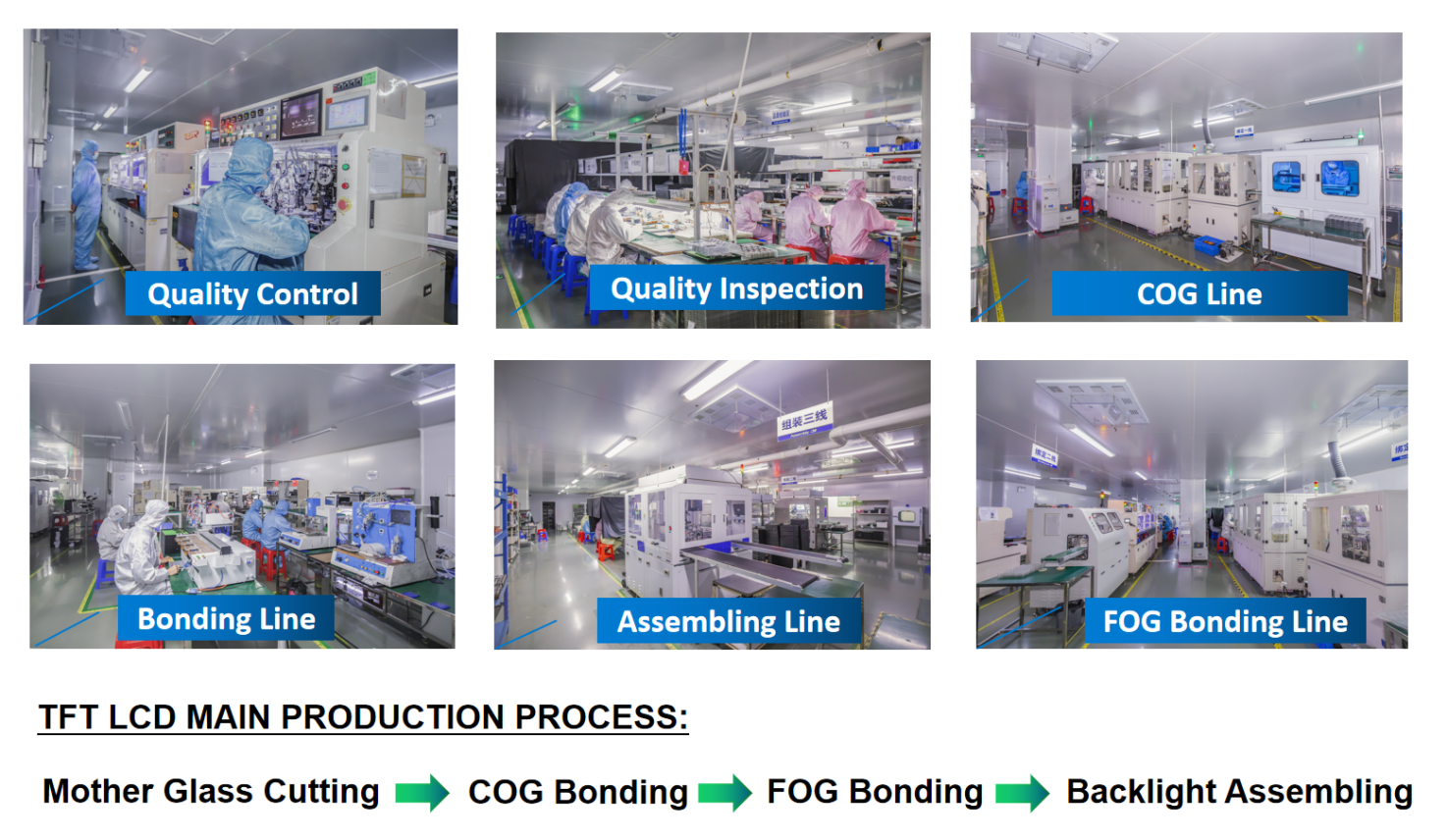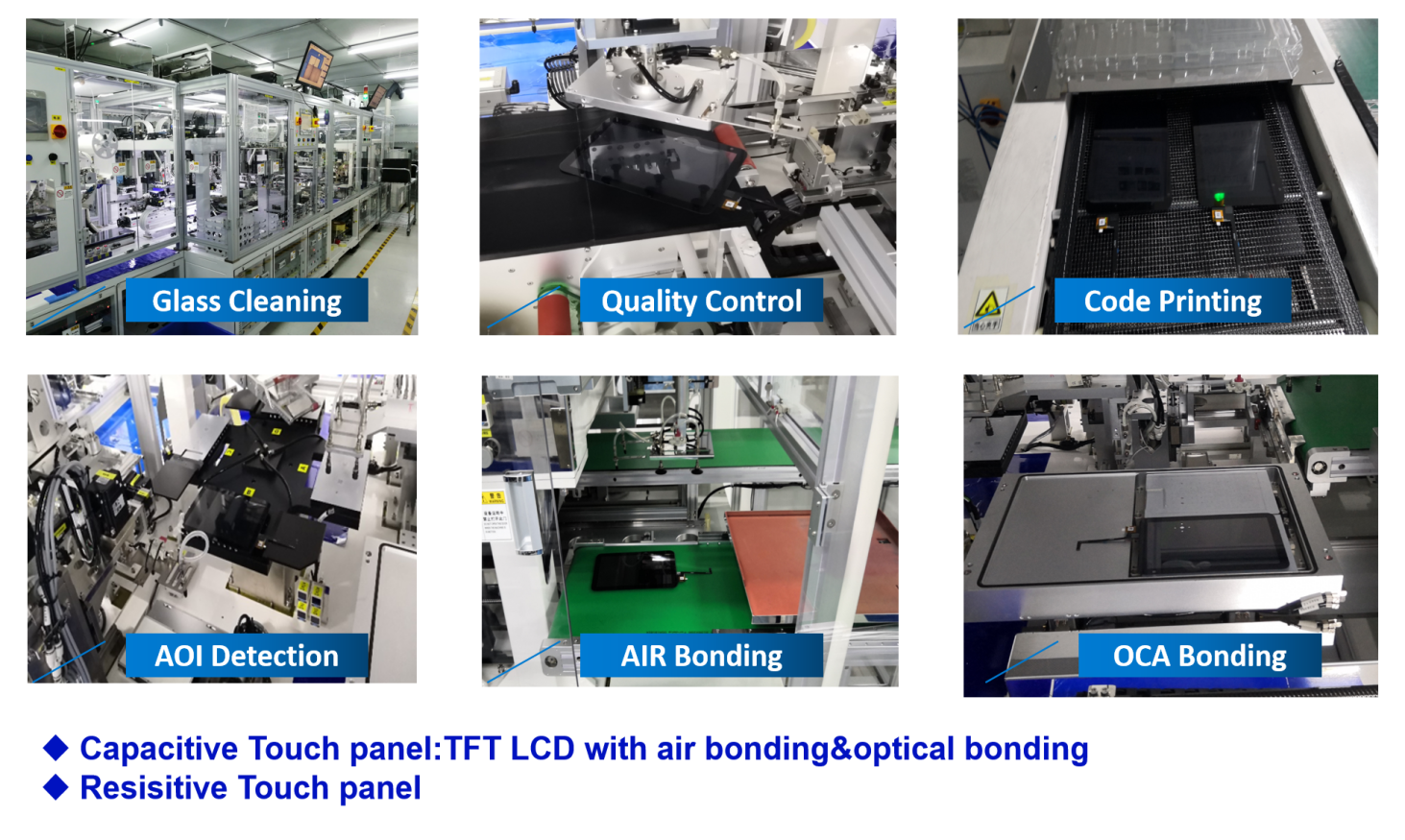 Q1. What is your product range?
A1: We are 10 years of experience manufacturing TFT LCD and touch screen.
►0.96" to 32" TFT LCD Module;
►High brightness LCD panel custom;
►Bar type LCD screen up to 48 inch;
►Capacitive touch screen up to 65";
►4 wire 5 wire resistive touch screen;
►One-step solution TFT LCD assemble with touch screen.
 
Q2: Can you custom the LCD or touch screen for me?
A2: Yes we can provide the customize services for all kinds of LCD screen and touch panel.
►For the LCD display,backlight brightness and FPC cable can be customized;
►For the touch screen,we can custom the whole touch panel like the color,shape,cover thickness and so on according to the customer's requirement.
►NRE cost will be refunded after the total quantity reaches 5K pcs.
 
Q3. Which applications your products are mainly used for?
►Industrial system,medical system,Smart home,intercom system,embedded system,automotive and etc.
 
Q4. What's the delivery time?
►For samples order,it is about 1-2weeks;
►For mass orders,it is about 4-6weeks.
 
Q5. Do you provide free samples?
►For first time cooperation,samples will be charged,the amount will be returned at the mass order stage.
►In regular cooperation,samples are free.Sellers keep the right for any change.
 
---
---
As a TFT LCD manufacturer, we import mother glass from brands including BOE, INNOLUX, and HANSTAR, Century etc., then cut into small size in house, to assemble with in house produced LCD backlight by semi-automatic and fully-automatic equipment. Those processes contain COF(chip-on-glass), FOG(Flex on Glass) assembling, Backlight design and production, FPC design and production. So our experienced engineers have ability to custom the characters of the TFT LCD screen according to customer demands, LCD panel shape also can custom if you can pay glass mask fee, we can custom high brightness TFT LCD, Flex cable, Interface, with touch and control board are all available.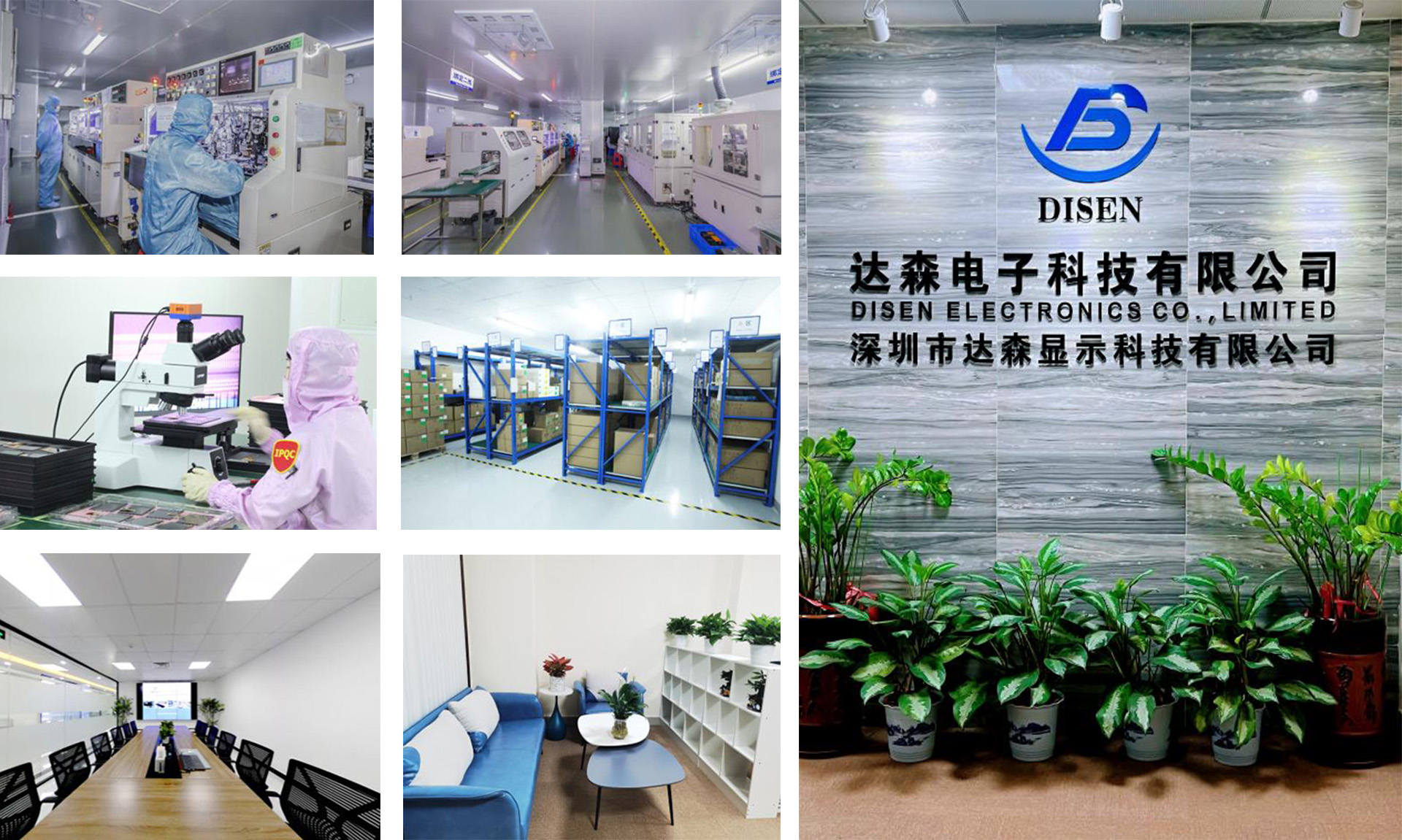 Write your message here and send it to us