The name of silicon-based OLED is Micro OLED,OLEDoS or OLED on Silicon,which is a new type of micro-display technology,which belongs to a branch of AMOLED technology and is mainly suitable for micro-display products.
The silicon-based OLED structure includes two parts:a driving backplane and an OLED device. It is an active organic light emitting diode display device made by combining CMOS technology and OLED technology and using single crystal silicon as an active driving backplane.
Silicon-based OLED has the characteristics of small size,light weight,high resolution,high contrast ratio,low power consumption,and stable performance.It is the most suitable micro-display technology for near-eye display,and is currently mainly used in the military field and the industrial Internet field.
AR/VR smart wearable products are the main application products of silicon-based OLED in the field of consumer electronics.In recent years,the commercialization of 5G and the promotion of the metaverse concept have injected new vitality into the AR/VR market,investing in giant companies in this field such as Apple,Meta,Google,Qualcomm,Microsoft,Panasonic,Huawei,TCL, Xiaomi,OPPO and others are accelerating the deployment of related products.
During CES 2022, Shiftall Inc.,a wholly-owned subsidiary of Panasonic,showcased the world's first 5.2K high dynamic range VR glasses,MagneX;
TCL released its second-generation AR glasses TCL NXTWEAR AIR;Sony announced its second-generation PSVR headset Playstation VR2 developed for the PlayStation 5 game console;
Vuzix has launched its new M400C AR smart glasses,which all feature silicon-based OLED displays.At present,there are few manufacturers engaged in the development and production of silicon-based OLED displays in the world.European and American companies entered the market earlier,mainly eMagin and Kopin in the United States,SONY in Japan,Microoled in France,Fraunhofer IPMS in Germany and MED in the United Kingdom.
The companies engaged in silicon-based OLED display screens in China are mainly Yunnan OLiGHTEK,Yunnan Chuangshijie Photoelectric (BOE Investment),Guozhao Tech and SeeYa Technology.
In addition,companies such as Sidtek,Lakeside Optoelectronics,Best Chip&Display Technology, Kunshan Fantaview Electronic Technology Co.,Ltd.(Visionox Investment),Guanyu Technology and Lumicore are also deploying silicon-based OLED production lines and products.Driven by the development of the AR/VR industry,the market size of silicon-based OLED display panels is expected to expand rapidly.
Statistics from CINNO Research show that the global AR/VR silicon-based OLED display panel market will be worth US$64 million in 2021.It is expected that with the development of the AR/VR industry and the further penetration of silicon-based OLED technology in the future,
It is estimated that the global AR/VR silicon-based OLED display panel market will reach US$1.47 billion by 2025,and the compound annual growth rate (CAGR) from 2021 to 2025 will reach 119%.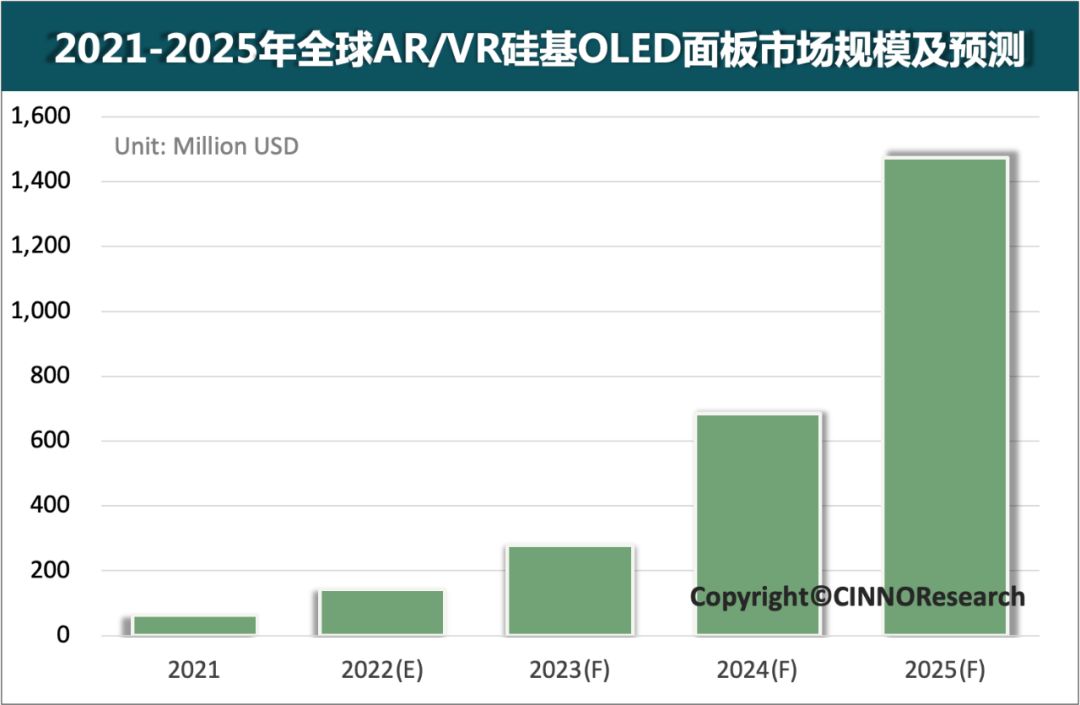 ---
Post time: Oct-13-2022