10.4 inch BOE LCD Automotive LCD LVDS interface Color TFT LCD Display
Product Detail
Our Advantage
Product Tags
GV104X0M-N10 is a 10.4inch normally black display mode,it applies to 10.4" color TFT-LCD panel.The 10.4 inch color TFT-LCD panel is designed for automotive,industrial equipment device and other electronic products which require high quality flat panel displays,excellent visual effect.This module follows RoHS.
Item
Standard Values

Size

10.4nch

Resolution

1024x768

Outline Dimension

230×180.2×10.5mm

Display area

210.432(W)×157.824(H)mm

Display mode

Normally black

Pixel Configuration

RGB Vertical stripes

LCM Luminance

450cd/m2

Contrast Ratio

1100:1

Optimum View Direction

IPS/Full angle

Interface

LVDS

LED Numbers

22LED

Operating Temperature

'-30 ~ +85℃

Storage Temperature

'-40 ~ +90℃

1. Resistive touch panel/capacitive touchscreen/demo board are available

2. Air bonding & optical bonding are acceptable
| | | | | | |
| --- | --- | --- | --- | --- | --- |
| Item | Symbol | MIN | MAX | Unit | Remark |
| Power Supply Voltage | VCC | 3 | 3.6 | V |   |
| Power Supply Current | IVCC | 350 | 550 | mA |   |
| Operating Temperature | TOPR | -30 | 85 | ℃ |   |
| Storage Temperature | TSTG | -40 | 90 | ℃ |   |
1-Operating conditions:
Parameter

Symbol

MIN

TYP

MAX

Unit

Remark

Power Voltage

Vcc

3.0

3.3

3.6

V

 

LVDS Supply Voltage

Vcc_IF

1.4

 

1.6

V

 

Power Consumption

PD

-

0.99

1.32

W

 

PBL

3.69

3.96

4.22

W

 

Ptotal

-

4.95

5.54

W

 
2-Driving Backlight:
Item

Symbol

MIN

TYP

MAX

Unit

Remark

LED Forward Voltage

VFLED

30.8

33

35.2

V

 

 

LED Forward Current

IFLED

-

120

-

mA

 

LED Power Consumption

PLED

3.69

3.96

4.22

W

 

LED Life Time

WBL

 

50000

-

Hr

 
1.Brightness can be customized,brightness can be up to 1000nits.
2.Interface can be customized,Interfaces TTL RGB,MIPI, LVDS,SPI,eDP is available.
3.Display's view angle can be customized,full angle and partial view angle is available.
4.Touch Panel can be customized,our LCD display can be with custom resistive touch and capacitive touch panel.
5.PCB Board solution can customized,our LCD display can support with controller board with HDMI,VGA interface.
6.Special share LCD can be customized,such as bar,square and round LCD display can be customized or any other special shaped display is available to custom.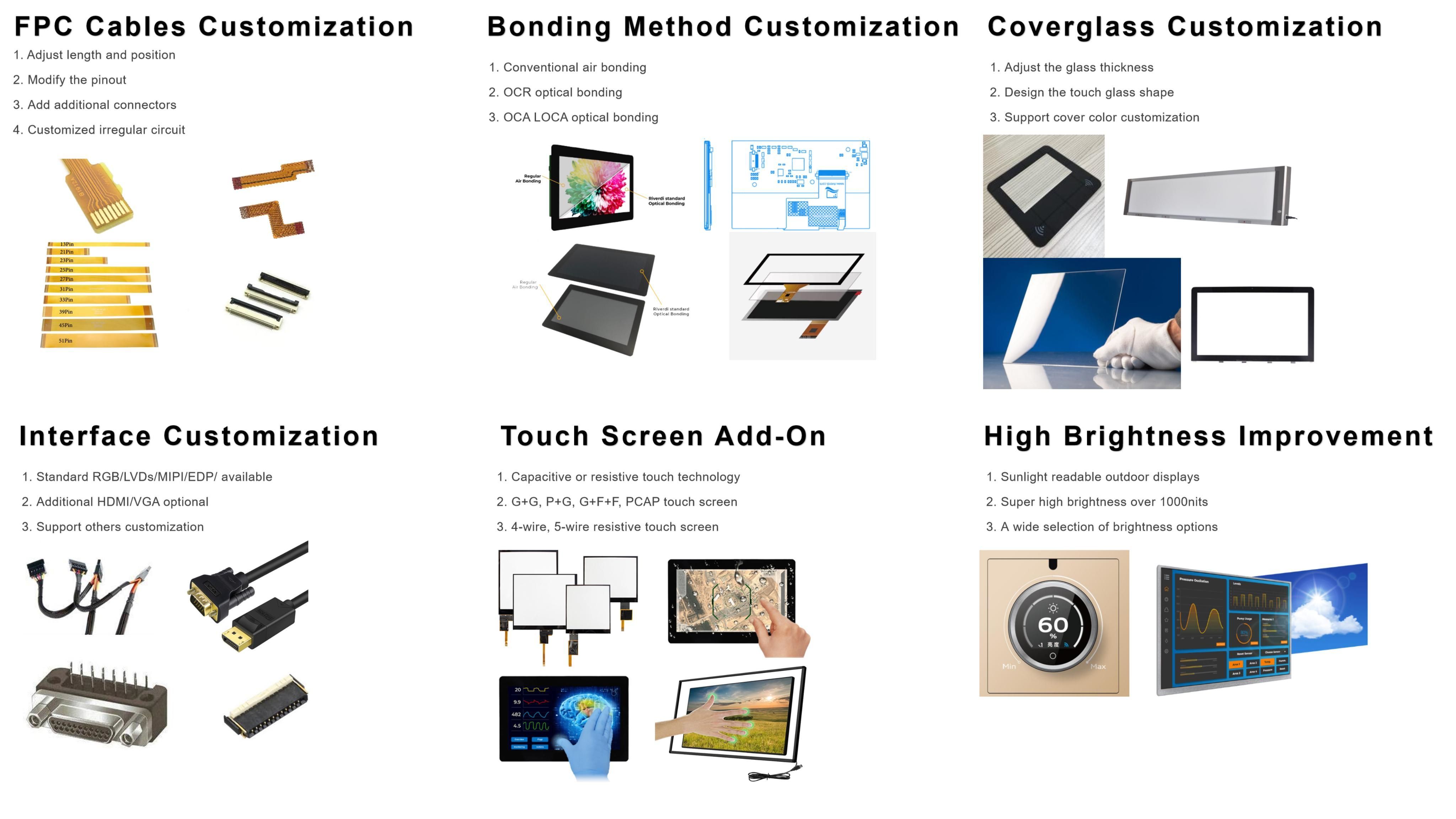 Welcome to inquiry &Choose Your Customization Soultion !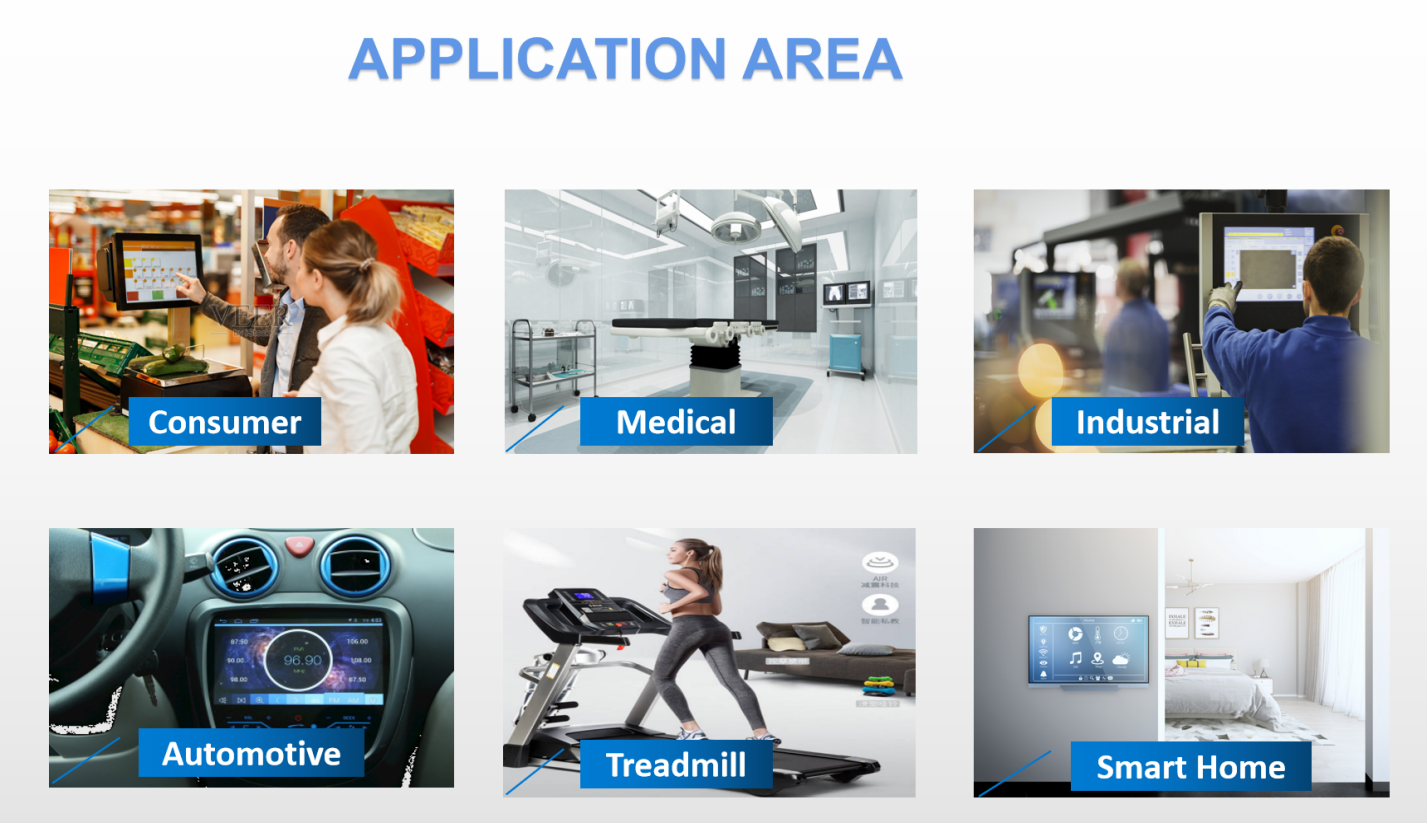 QUALIFICATION
ISO9001,IATF16949,ISO13485,ISO14001,High-Tech Enterprise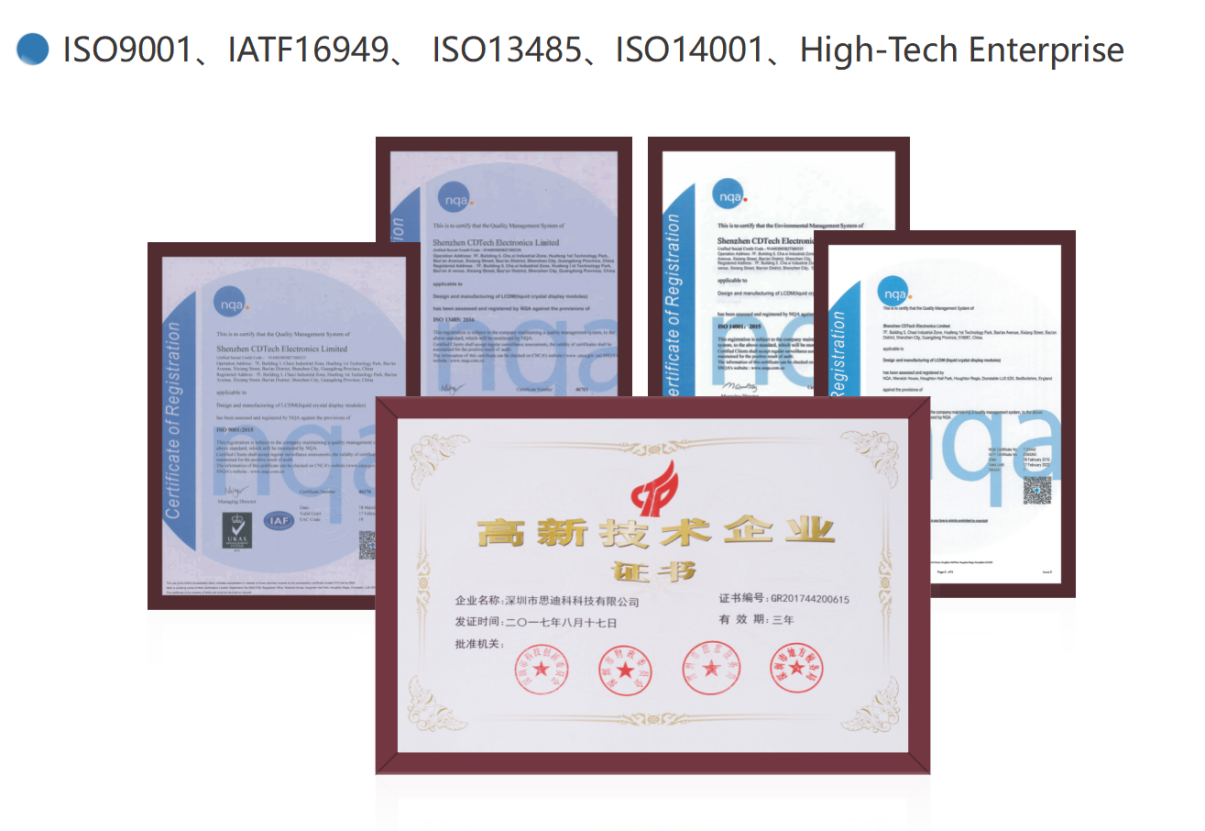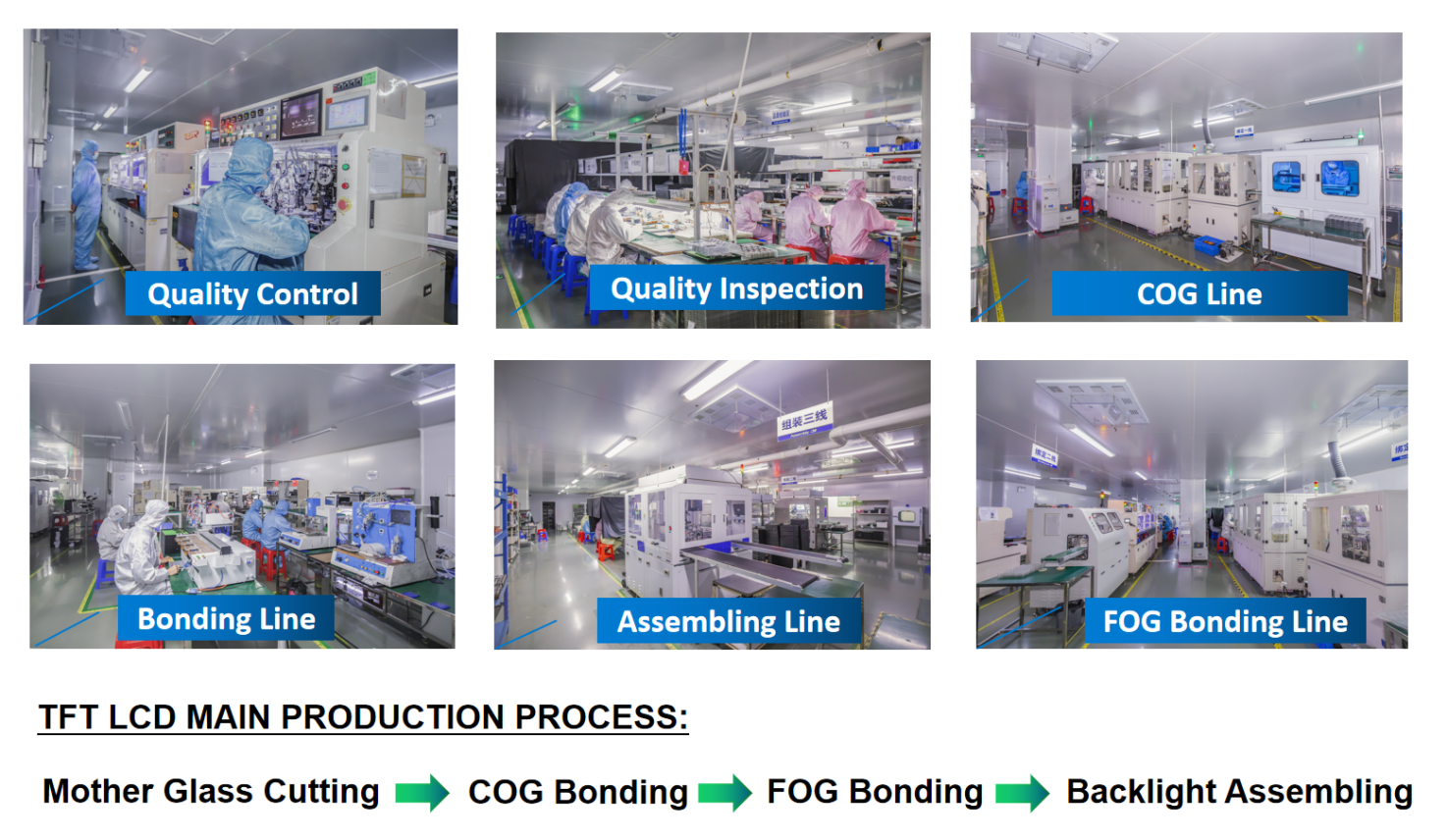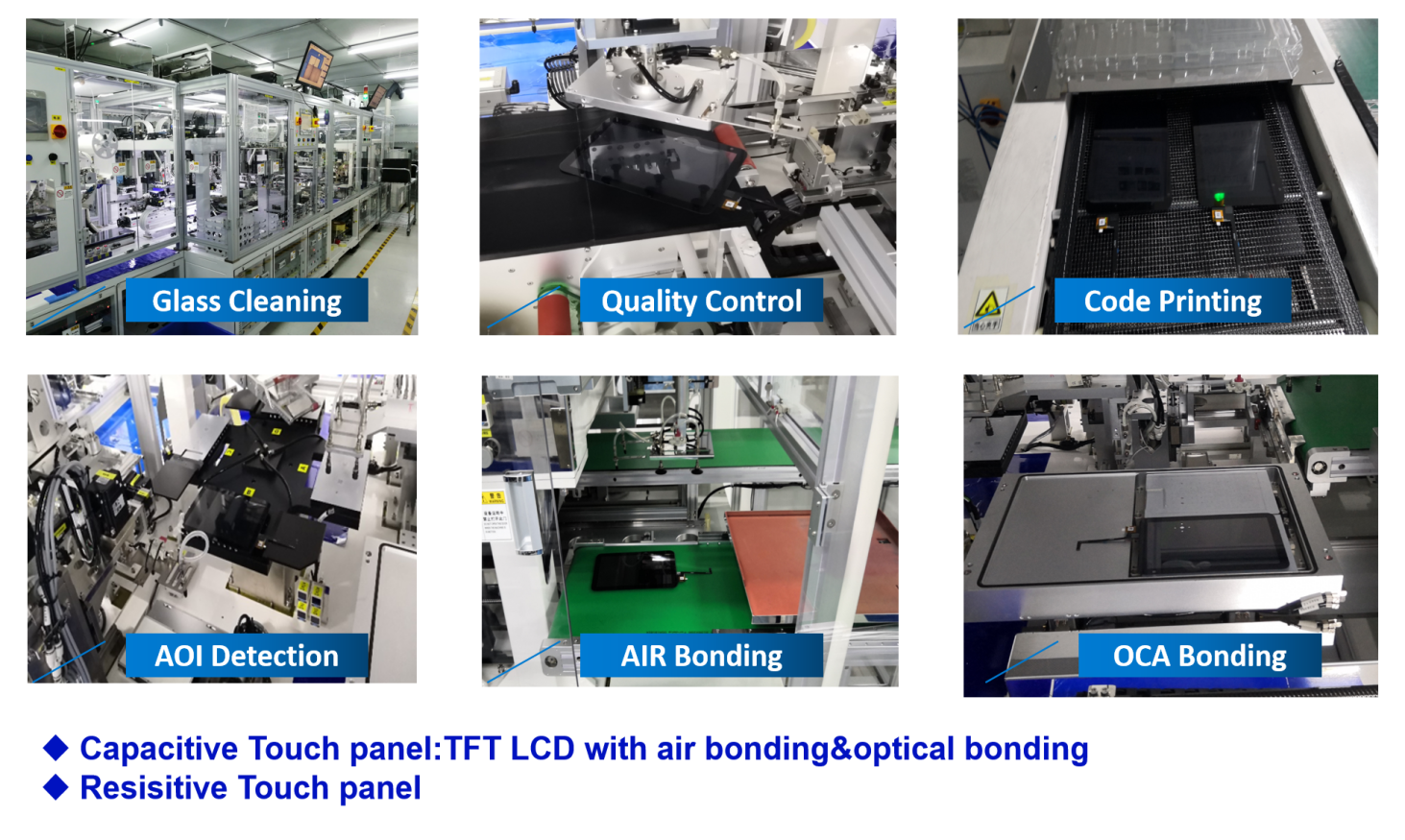 Q1. What is your product range?
A1: We are 10 years of experience manufacturing TFT LCD and touch screen.
►0.96" to 32" TFT LCD Module;
►High brightness LCD panel custom;
►Bar type LCD screen up to 48 inch;
►Capacitive touch screen up to 65";
►4 wire 5 wire resistive touch screen;
►One-step solution TFT LCD assemble with touch screen.
 
Q2: Can you custom the LCD or touch screen for me?
A2: Yes we can provide the customize services for all kinds of LCD screen and touch panel.
►For the LCD display,backlight brightness and FPC cable can be customized;
►For the touch screen,we can custom the whole touch panel like the color,shape,cover thickness and so on according to the customer's requirement.
►NRE cost will be refunded after the total quantity reaches 5K pcs.
 
Q3. Which applications your products are mainly used for?
►Industrial system,medical system,Smart home,intercom system,embedded system,automotive and etc.
 
Q4. What's the delivery time?
►For samples order,it is about 1-2weeks;
►For mass orders,it is about 4-6weeks.
 
Q5. Do you provide free samples?
►For first time cooperation,samples will be charged,the amount will be returned at the mass order stage.
►In regular cooperation,samples are free.Sellers keep the right for any change.

---
---
As a TFT LCD manufacturer, we import mother glass from brands including BOE, INNOLUX, and HANSTAR, Century etc., then cut into small size in house, to assemble with in house produced LCD backlight by semi-automatic and fully-automatic equipment. Those processes contain COF(chip-on-glass), FOG(Flex on Glass) assembling, Backlight design and production, FPC design and production. So our experienced engineers have ability to custom the characters of the TFT LCD screen according to customer demands, LCD panel shape also can custom if you can pay glass mask fee, we can custom high brightness TFT LCD, Flex cable, Interface, with touch and control board are all available.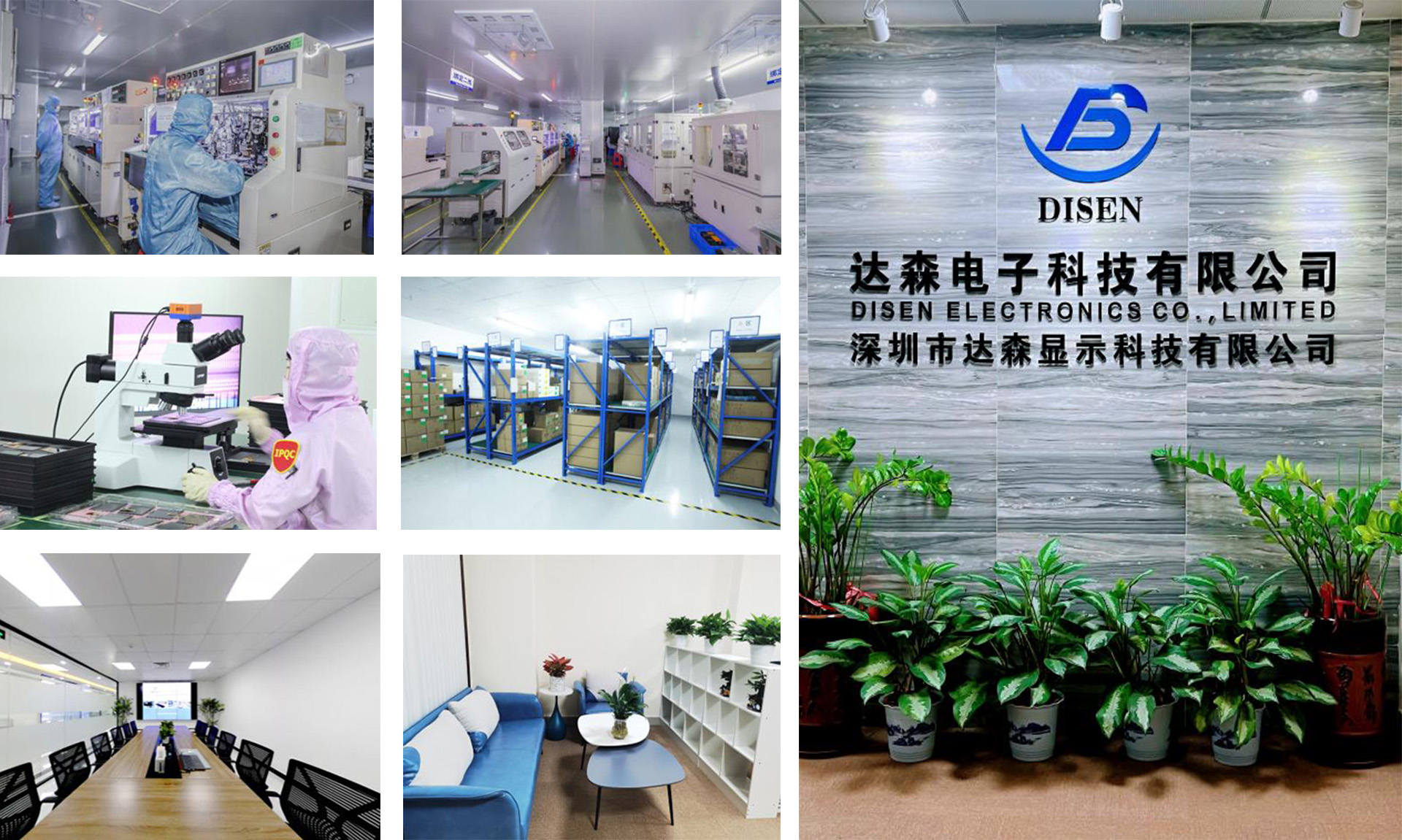 Write your message here and send it to us